"

…Kenny Peagler on the yamaha [piano] makes the hair rise on my arms and shivers run over my back…"
"

...in his inventive solos he is colorful and effortlessly switches between lyrical and ecstatic play. he produces a lot of notes and constantly surprises with slick harmonic twists. his playing is unheard of and is rooted in the tradition of old masters such as Ray Charles and Earl Hines." - draai on je oran (Amsterdam, Netherlands)
"

Peagler's ability to utilize one primary instrument without it becoming redundant or stale distinctly displays a sense of mastery and thought-provoking initiative to create an exuberant piece of music that will remain timeless for years to come."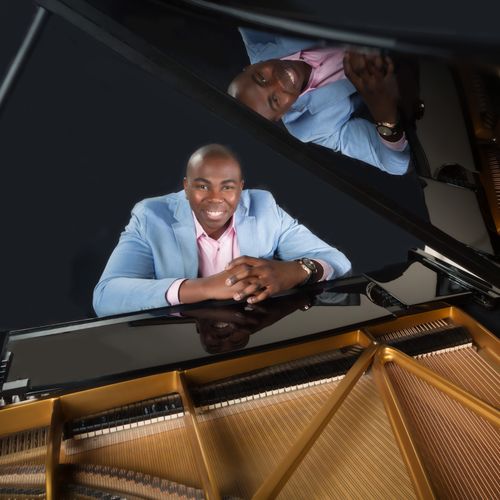 Kenny Peagler
About
Kenny Peagler is a multi-genre virtuoso pianist, singer-songwriter, composer, arranger, musical director, and educator.  With his charismatic, high-energy performances, Peagler dazzles audiences with his piano prowess, expressive melodies, and soulful singing. He effortlessly blends jazz, classical, soul, and gospel into one musical experience with a heartbeat that cuts straight through to the core of his listeners' emotions.
Kenny Peagler studied at the prestigious New England Conservatory of Music in Boston, Massachusetts, and has performed at some of the world's most notable venues and festivals including Carnegie Hall, The Blue Note, North Sea Jazz Festival, Umbria Jazz Festival, to name a few.  He also performed for President Barack Obama at the NAACP Centennial Celebration, held in New York City.  Recently, Peagler performed with the Pittsburgh Symphony Orchestra for a performance that features the work of some of America's greatest artists and composers. Throughout his career, he has performed with countless musical icons around the world. While much of his piano playing has been in concert halls and on tours, Kenny has recorded on over 20 full-length albums with various artists and released a solo piano album, 100 Years of Strayhorn to celebrate the late composer, Billy Strayhorn's 100th birthday with arrangements of some of his favorite Billy Strayhorn compositions in a tribute to a musical legend.  
Peagler is preparing to release a full length self-titled album.